Filipin III is the major component of Filipin complex, which includes also: Filipin I, Filipin II and Filipin IV. Filipin complex was first isolated from culture of Streptomyces Filipinensis by Whitfield et al in 1955. Recently Filipin III was identified also in a culture of S. miharaensis (Kim at el, 2012).
Biological Activity and Applications
Filipin III is a polyene macrolide antibiotic which exhibits antifungal activity (Whitfield at el, 1955; Ceder and Ryhage, 1964). Filipin binds membrane sterols and alters the membrane structure. Unlike most polyene macrolides, Filipin has a high affinity for cholesterol containing membranes, and therefore has toxic implications for mammalian cells and cannot be used as a therapeutic agent (Payero et al, 2014). However, Filipin is widely used as a marker for detection and quantification of cholesterol in cellular membranes. The diagnosis of Neimann-Pick C disease, a cellular cholesterol trafficking defect, required staining of living skin fibroblasts with Filipin (Vanier and Latour, 2015). Filipin III was found to trigger signaling responses in tobacco cells, including a NADPH oxidase-dependent production (Bonneau et al, 2010). These findings suggest using Filipin III as a tool in research of signaling processes at plant cells.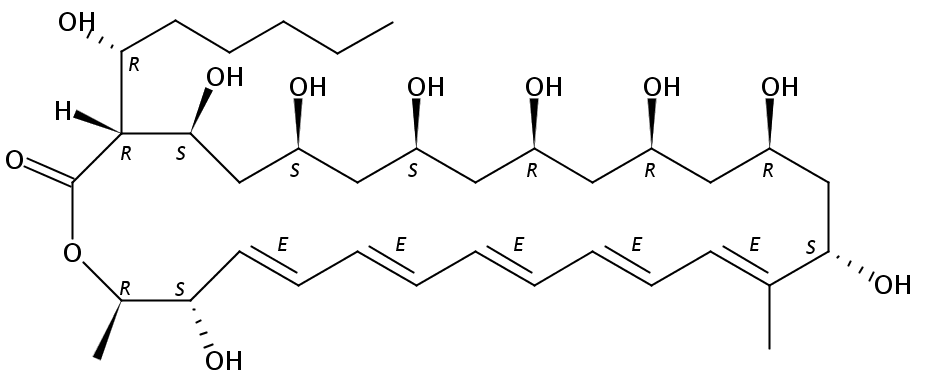 References:
Plasma membrane sterol complexation, generated by filipin, triggers signaling responses in tobacco cells. Bonneau L, Gerbeau-Pissot P, Thomas D, Der C, Lherminier J, Bourque S, Roche Y, Simon-Plas F.,Biochim. Biophys. Acta. (2010) 1798:2150.
The structure of filipin., Ceder O, Ryhage R,  Acta Chem. Scand. (1964) 18:558
Identification and biocontrol efficacy of Streptomyces miharaensis producing filipin III against Fusarium wilt., Kim JD, Han JW, Hwang IC, Lee D, Kim BS., J. Basic Microbiol. (2012) 52:150
Functional analysis of filipin tailoring genes from Streptomyces filipinensis reveals alternative routes in filipin III biosynthesis and yields bioactive derivatives., Payero TD, Vicente CM, Rumbero Á, Barreales EG, Santos-Aberturas J, de Pedro A, Aparicio JF., Microb. Cell Fact. (2015) 14:114
Laboratory diagnosis of Niemann-Pick disease type C: the filipin staining test., Vanier MT, Latour P., Methods Cell Biol. (2015) 126:357.
Filipin, an Antifungal Antibiotic: Isolation and Properties., Whitfield GB, Brock TD, Ammann A., Gottlieb D., Carter H. E., J. Am. Chem. Soc., (1955) 77: 4799