Review
Enniatins are cyclohexadepsipeptides produces mainly by Fusarium species, but also by other fungi, as Verticillium and Halosarpheia (Sy-Cordero et al, 2012). Enniatin A was first isolated by Gaumann et al (1947). During the last decades, further 28 enniatins were discovered. The most common enniatins are Enniatin A, Enniatin A1, Enniatin B and Enniatin B1.
Occurrence and Toxicity
Enniatins can be found in mould-infected cereals. Recent studies have found high rate of enniatin presence in food samples. For example, in Danish and Czech cereal-based products, 100% of the samples checked were contaminated with enniatins (Malachova et al, 2011; Svingen et al, 2016).
Enniatin B induced cell death and inflammatory response in macrophages (Gammerlsrud et al, 2012; Ficheux et al, 2013). It was found to effect mitochondrial organization and energy metabolism in vitro (Jonsson et al, 2016) and interrupt the cellular potassium ions homeostasis (Tonshin et al, 2010). One research suggested synergistic proinflammatory effect of Enniatin B with the toxins Emodin, Physcion, Sterigmatocystin and Valinomycin (Korkalainen et al, 2017). A scientific opinion of European Food Safety Authority (EFSA) (Benford et al, 2014) has suggest that acute exposure to enniatins does not risk human health, however chronic exposure might be harmful, and more research in vivo in needed to perform a human risk assessment.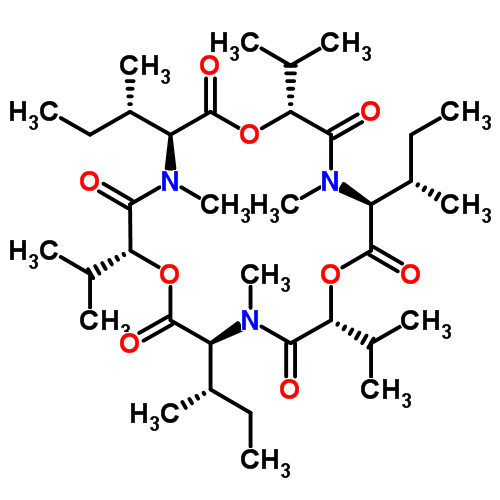 Biological activity
Enniatins exhibit multiple diverse biological activities, including antimicrobial, antifungal (Meca et al, 2010; 2011), ionophoric and anti-cancer activities. Due to the pore shape of the cyclodepsipeptide structure of enniatins, they act as ionophores and form cation selective pores (Sy-Cordero et al, 2012). Enniatins act also as enzyme inhibitors. Enniatin A, A1, B, B1, D, E1/E2 and F inhibit acyl-CoA:cholesterol acyltransferase, however their effect is weaker than that of Beauvericin (Tomoda et al, 1992). Enniatin B inhibits 3',5'-cyclo-nucleotide phosphodiesterase and can bind calmodulin (Sy-Cordero et al, 2012). Enniatins, like FK506, are specific inhibitors of Pdr5p, which causes multidrug resistance, however they are less toxic, and though have a potential use in preventing drug resistance (Hiraga et al, 2005). Enniatins inhibit also the human malaria parasite (Sy-Cordero et al, 2012).
Recently, the anti-tumor activity of Enniatins gets growing interest.  Enniatin A1, B1 and B were found to induce cell death in H4IIE hepatoma cells (Watjen et al, 2009). In other research, Enniatin promoted proliferation in low concentration, but induced cytotoxic activities against human cancer cells in higher concentration (Dornetshuber et al, 2007). Enniatin B induced G1 blockade in hepatocarcinoma cells in vitro (Juan-Garcia et al, 2015). Several studies have investigated the synergistic effect of Enniatin with other drugs. Combination of Enniatin B with Sorafenib has evaluated the inhibition effect of both drugs against cervical cancer in vitro and in vivo (Dornetshuber-Fleiss et al, 2015). Fernando-Blanco et al (2016) have found synergistic, antagonistic and addictive effect for the combination of Enniatin B, Deoxynivalenol and Alternariol against human adenocarcinoma cells (Caco-2 cells). However, other research made by Vejdovszky et al (2016) and published at the same journal, had study the effect of the combination between the toxins Enniatin B, Aurofusarin, Deoxynivalenol, Nivalenol, Zearalenone and Tenuazonic acid in Caco-2 cells, and did not find any synergistic effect.
In conclusion, the diverse biological activities of enniatins make them a promising potential drug for cancer and other diseases. However, more research is needed for better understanding of their toxicity and the implication of long term exposure on human health.